EPISODE #1
EXOTIC PINK, BASHFUL ORANGE AND INTENSE FAWN CREATE A LIVELY POP LOOK FOR A STYLISH END TO WINTER. EXPLOSIVE COMBINATIONS ASSERTING ULTRA-DYNAMIC SILHOUETTES AND ELECTRIFYING THE HOUSE'S TAILORING.
Crepe suit jacket - Cotton poplin shirt

Leather and suede "Touch Me" bag - Crepe bootleg trousers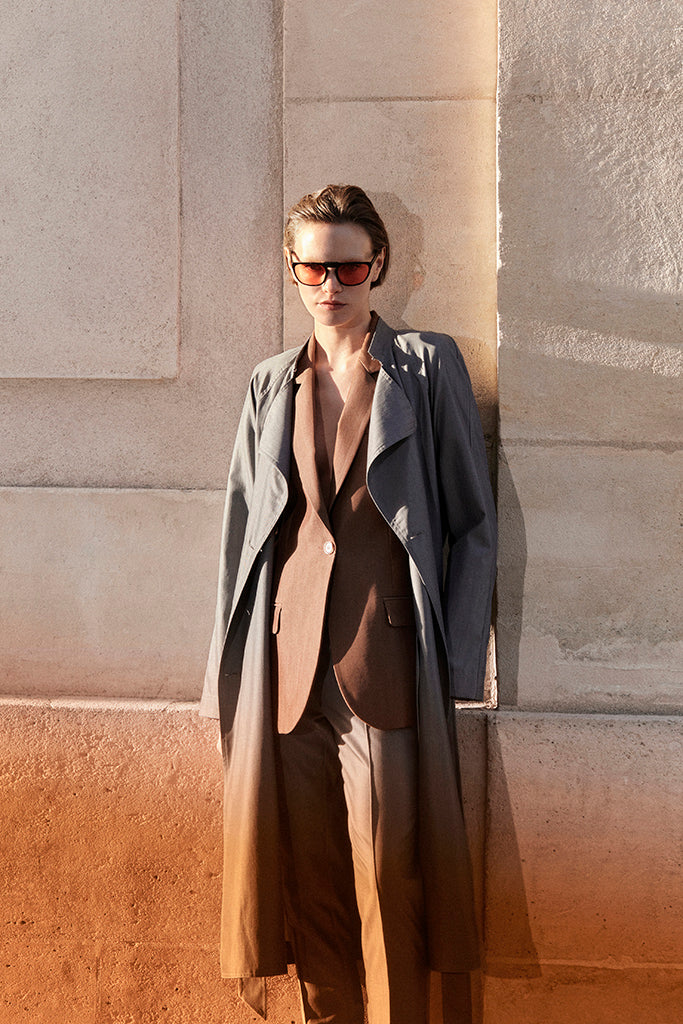 ENERGIZED COLORS WITH "SUNSET" TONES CREATE ARCHITECTURAL SILHOUETTES WITH CLEAN CUTS AND SHARP LINES. IN RESPONSE, A BLACK JACKET OPENS AT THE BACK TO REVEAL THE SKIN BENEATH IN A PLAYFUL GEOMETRIC CUT. AND A NEW TAKE ON THE MEN'S TROUSER SUIT ULTRA-FINE ULTRA-LIGHT ALPACA WOOL, SOMETIMES FAWN, SOMETIMES SILVER-GREY, CREATES A STYLISH AND RELAXED LOOK. VIBRANT TONES AND FLAMBOYANT COLORS, A REAL SHOT OF ENERGY!
Leather and suede "Totem" bag
Wool gabardine cut out jacket - Wool bootleg trousers

Wool and silk fitted suit jacket - Cotton poplin shirt - Wool and silk bootleg trousers - Grained leather boots
Flowy wool and silk trench coat - Cotton poplin shirt - Wool and silk bootleg trousers - Grained leather boots

Masculine alpaca jacket with satin collar - Wool "Roxy" trousers - Leather boots
DISCOVER THE SELECTION
Regular price

330,00€

-50%

Sale price

165,00€

Unit price

per

Regular price

1.080,00€

-50%

Sale price

540,00€

Unit price

per

Regular price

850,00€

-50%

Sale price

425,00€

Unit price

per

Regular price

850,00€

-50%

Sale price

425,00€

Unit price

per

Regular price

330,00€

-50%

Sale price

165,00€

Unit price

per