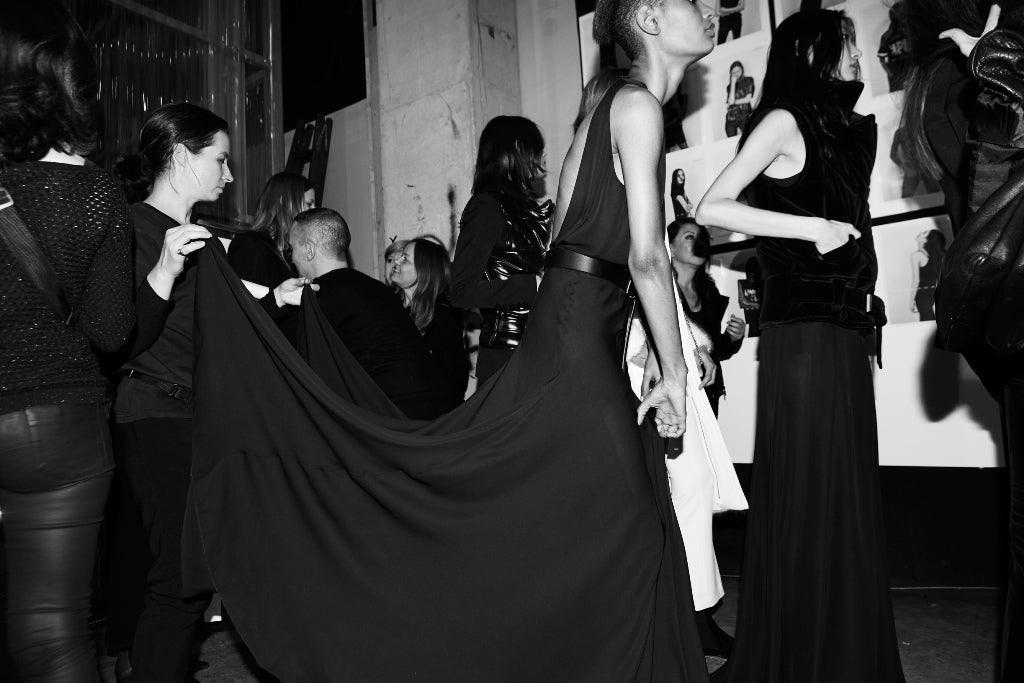 1983 - OPENING OF A FIRST BOUTIQUE AND ATELIER/WORKSHOP, CARRYING WOMEN'S LUXURY PRET-A-PORTER ALONG WITH BARBARA BUI'S OWN CREATIONS, A LIMITED COLLECTION OF ICONIC PIECES THAT REPRESENTED THE BEGINNING OF HER OWN LINE. THE BOUTIQUE BECOMES QUICKLY VISITED BY ACTORS AND MUSICIANS THAT FIND THERE THEIR OWN SINGULARITY.

1987 - THE LAUNCH OF THE BARBARA BUI LABEL WITH HER FIRST RUNWAY FASHION SHOW IN PARIS AND THE OPENING OF THE FIRST BARBARA BUI BOUTIQUE. REQUESTS FROM RETAILERS BECOME SHORTLY MORE AND MORE PRESSING AND BARBARA BUI OPENS HER COLLECTIONS TO MULTI-BRAND STORES IN FRANCE AND ACROSS THE WORLD.

1998 - LAUNCH OF THE BB COMPANY ON THE PARIS STOCK EXCHANGE AND OPENING OF A FLAGSHIP STORE 50 AVENUE MONTAIGNE IN PARIS.

1999 - OPENING OF A STORE IN NEW YORK AND FIRST RUNWAY SHOW IN THE USA WHERE BARBARA BUI WILL HELD HER SHOWS DURING SEVERAL SEASONS.

2000 - THE BB ACCESSORIES LINE IS LAUNCHED CONSISTING OF SHOES, HANDBAGS, SCARVES THAT EXPAND THE UNIVERSE OF THE HOUSE AND MAKE IT A GLOBAL BRAND.

2000-2001 - PHOTOGRAPHIC COLLABORATION WITH DAVID BAILEY.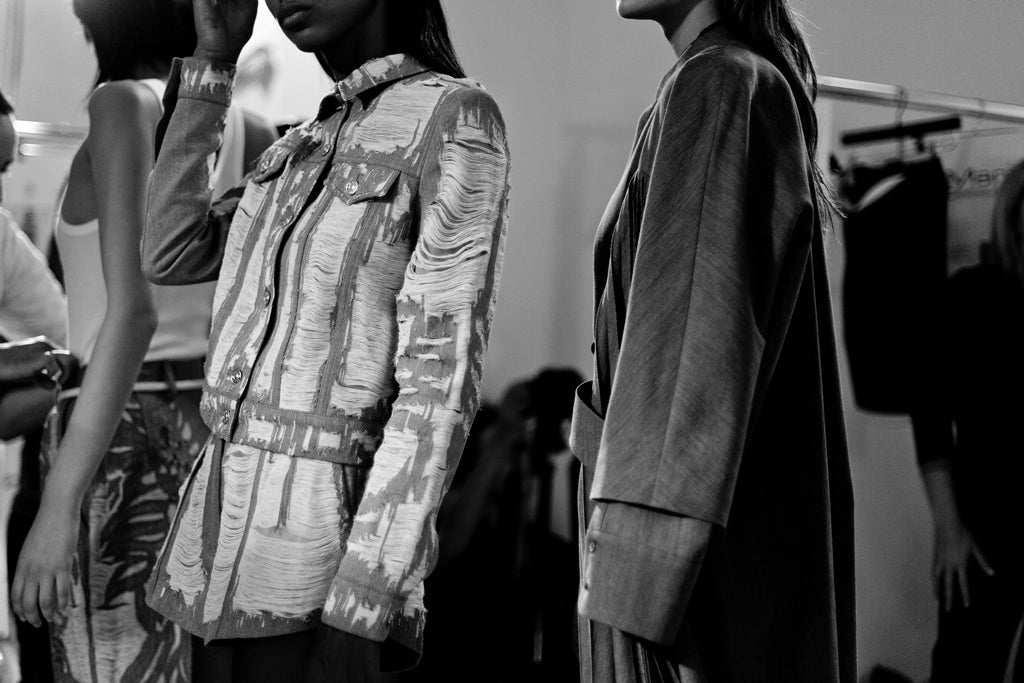 2003 - BARBARA BUI IS ELECTED TO THE FÉDÉRATION DE LA HAUTE COUTURE ET DE LA MODE.

2009 - ATAME, A LINE OF SILVER JEWELRY ENTIRELY DEDICATED TO CHAINS AND THE SYMBOLISM OF THE SNAKE.

2012 – LAUNCH OF BARBARA BUI ONLINE STORE IN PARTNERSHIP WITH YOOX GROUP. 2013 - THE GLOBE DE CRISTAL FOR BEST FASHION DESIGNER 2013 IS AWARDED TO BARBARA BUI BY THE FRENCH ARTS AND CULTURE PRESS ASSOCIATION.

2013-2014-2016 - BARBARA BUI SIGNS VARIOUS COLLABORATIONS , BARBARA BUI X FRENDS, BARBARA BUI AND THE CHINESE ARTIST HUANG ZHIANG, AND THEN IN 2016, WITH BLENDA EGGENSCHWILLER AND CAROLINE VREELAND.

2017 - REDESIGN OF THE ONLINE STORE THAT BECOMES 100% IN HOUSE OPERATED FOR AN EXPANSION IN FRANCE AND INTERNATIONALLY.

2019 - LAUNCH OF THE FIRST MENSWEAR COLLECTION, A COOL WARDROBE FOR A MAN THAT ACCEPTS HIS SENSITIVITY.
2023 - BARBARA BUI RECEIVES THE DISTINCTION OF KNIGHT IN THE NATIONAL ORDER OF THE LEGION OF HONOUR. THIS DISTINCTION REWARDS HER WORK IN FASHION AND MORE GENERALLY IN THE CULTURE AREA FOR 40 YEARS.